NSMC Steel Stack Racks may be the best solution for the manufacturer, distributor, or warehouse user, offering a portable, collapsible, and economical solution for protecting and storing parts and materials. When space utilization is important or the ability to change the layout of your storage racks, these racks easily can be knocked down and stored and reassembled quickly to adjust to your changing inventory and storage needs.

We manufacture our stack racks in the United States and Canada which means we can manufacture them to meet your specific application needs. We also control the raw materials, fabrication processes, and the final finish of wet paint or powder coat all inside one location. This controls quality, reduces waste, and provides racks to meet your individual requirements.
Simply put, NSMC Stack Racks are beneficial in cost, time, save floor space, and save time. Stack racks aid in storage of finished or raw materials feeds production lines and moves parts between operations or locations. Whether you need storage racks or shipping racks, our portable unit help you improve your operational flow.
Design Your Own Rack
No two businesses are the same and neither are your storage requirements, that is why we offer features that let you design your rack to meet your specific requirements. Our base frames are available in a wide range of sizes and five base styles to meet your needs. We also offer side and end frames in a variety of sizes and weight capacities along with five different deck styles to fit your storage requirements. View the specifications, features and options below to help you design your own rack.
Specifications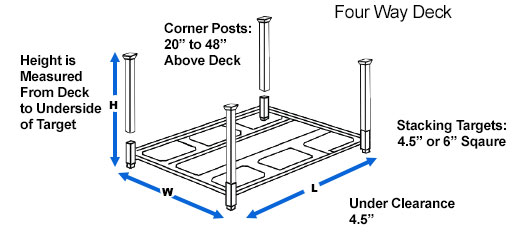 End & Side Frames
Frames prevent shifting of the product especially cylindrical items like tubes or rolls.
Helps reduce damage to fragile items.
Facilitates inventory with easier visual identification and containment of specified quantities.
Base Frames & Styles
Dimensions & Capacities
Base Frames: Four Way Entry is Standard on All Models
2000 lb. Capacity
4000 lb. Capacity
Width
Length
Model #
WT/lbs.
Model #
WT/lbs.
36
42
3642-2
44
3642-4
59
36
48
3648-2
50
3648-4
68
36
54
3654-2
56
3654-4
76
36
60
3660-2
62
3660-4
85
42
42
4242-2
55
4242-4
74
42
48
4248-2
60
4248-4
81
42
54
4254-2
65
4254-4
86
42
60
4260-2
76
4260-4
94
48
48
4848-2
65
4848-4
92
48
54
4854-2
70
4854-4
97
48
60
4860-2
82
4860-4
102
60
60
6060-2
98
6060-4
138
Corner Posts: Set of Four
Height Above Deck
2000 lb. Capacity
4000 lb. Capacity
Model #
WT/lbs.
Model #
WT/lbs.
20"
20-2
20
20-4
31
24"
24-2
22
24-4
35
28"
28-2
24
28-4
39
30"
30-2
26
30-4
41
34"
34-2
29
34-4
44
36"
36-2
30
36-4
47
40"
40-2
32
40-4
50
44"

44-2
35
44-4
55
48"
48-2
37
48-4
59
Deck Styles